Located in the centre of the french Atlantic coast, the Shipbuilding and Repair Centre has powerful tools and brings together companies with complementary expertise in the field of repair and shipbuilding. Atlantic Port La Rochelle offers specialised human and technical resources for the activity of this site.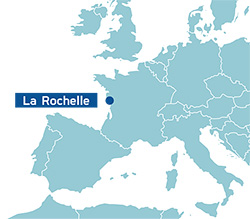 Major infrastructures
The dry docks :

1 Dock n° 1: useful length 176 m, useful width 21,86 m
2 Dock n° 2: useful length 107 m, useful width 13,84m
Repair area afloat and dry :
3 A careening area for dry repairs of 6 000 m².
4 Two docks repair afloat:
Quai Camaret pier equipped with a pontoon (90m) with secure access,
and central barrier of the wet dock (see photo below).
Tools :

5 An elevator 250 tonnes.

Services :
A secure area under 24h / 24, 7 days / 7 surveillance in accordance with ISPS regulations,
Emergency supplied 1,000 kVA electrical substation.

6 An area for waste collection.

A port certified ISO 9001 and ISO 14001 on all its activities.
The site is connected to a treatment unit of runoff water.
Dock N° 1
DESCRIPTION
Useful length: 176 m
Useful width: 21,86 m
Dry end timing: 6 hours
Dedicated area surrounding dock: 2,000 m2
AT DISPOSAL
Available power supply:
1 plug 400V 125A (3-phase + neutral + earth)
1 plug 400V 63A (3-phase + neutral + earth)
2 plugs 230V 16A (phase + neutral + earth)
3 electrical outlets adjustable from 50A to 250A (3-phase + neutral)
Fresh water supply
Fire defences

Dock N° 2
DESCRIPTION
Useful length: 107 m
Useful width: 13,84 m
Dry end timing: 3 hours
Dedicated area surrounding the dock: 2,000 m2
AT DISPOSAL
available power supply:
3 plugs 400V 125A (3-phase + neutral + earth)
6 plugs 400V 63A (3-phase + neutral + earth)
6 plugs 230V 16A (3-phase + neutral + earth)
Fresh water supply
Fire hydrant alongside the dock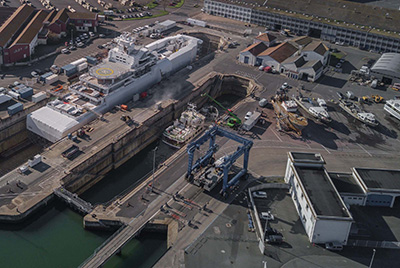 Central groyne of the lock basin