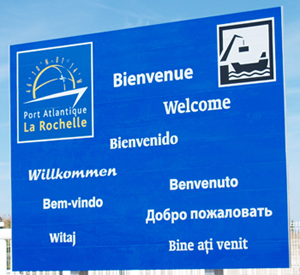 Land access: access the main entrance of the Port
GPS coordinates: 46°09'37 N / 1°12'19 W
The Atlantic Port La Rochelle is subject to the International Code for the Security of Ships and Port Facilities (ISPS Code), which sets out the rules to be observed for safety.
All persons moving around inside the Port must be in possession of a valid access permit corresponding to the zone to which it wishes access.
The access card is strictly personal. It is used to authenticate the holder during his access or during a security check. Port security officers are entitled to ask for the presentation of an identity document.
Access request
For more reliable processing of such information, while providing an improvement in terms of service quality, the port access request system is now dematerialized through the MILO application.
To connect to the MILO app: MILO
You can then collect your access badge from reception building at the "Jeumont" entrance of the Port.
Safety rules, safety and environmental protection
Find the safety, security and protection of environmental
Location map