La Rochelle is ideally situated on the Atlantic coast, offering professionalism and a pleasant living environment. Recognised tourist destination, La Rochelle is a city much appreciated by the crews.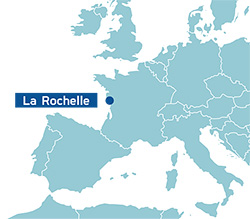 Major infrastructures

On the repair and shipbuilding site of Atlantic Port La rochelle, the dry dock N°1, 176 m length, is suitable for super and mega yachts refit.
The on-site operator Atlantic Refit Center offers all types of refit works and services on Super and Mega Yachts including full repaint and conversion.
Dock N° 1
DESCRIPTION
Useful length: 176 m
Useful width: 21,86 m
Dry end timing: 6 hours
Dedicated area surrounding dock: 2,000 m2
AT DISPOSAL
Available power supply:
1 plug 400V 125A (3-phase + neutral + earth)
1 plug 400V 63A (3-phase + neutral + earth)
2 plugs 230V 16A (phase + neutre + earth)
3 electrical outlets adjustable from 50A to 250A (3-phase + neutral)
Fresh water supply
Fire defences

Dock N° 2
DESCRIPTION
Useful length: 107 m
Useful width: 13,84 m
Dry end timing: 3 hours
Dedicated area surrounding the dock: 2,000 m²
AT DISPOSAL
Available power supply:
3 plugs 400V 125A (3-phase + neutral + earth)
6 plugs 400V 63A (3-phase + neutral + earth)
6 plugs 230V 16A (3-phase + neutral + earth)
Fresh water supply
Fire hydrant alongside the dock