La Rochelle is ideally situated on the Atlantic coast, offering professionalism and a pleasant living environment. Recognised tourist destination, La Rochelle is a city much appreciated by the crews.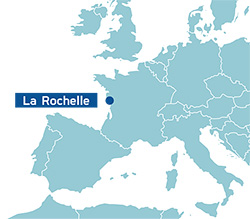 Sea Pole La Rochelle brings together companies from La Rochelle in the shiprepair and shipbuilding sector. With this new brand, they intend to highlight their skills and expertise as well as the quality of their infrastructure and tools (workshops, careening area, dry docks, fitting-out wharfs, ship lifts) on a secure site, ideally located on the Atlantic coast.
For merchant fleets, fishing fleets, civilian or military administration fleets, yacht fleets, the Sea Pole La Rochelle companies propose a complete range of services in shiprepair and shipbuilding : Sea Pole La Rochelle


Major infrastructures

On the repair and shipbuilding site of Atlantic Port La rochelle, the dry dock N°1, 176 m length, is suitable for super and mega yachts refit.
The on-site operator Atlantic Refit Center offers all types of refit works and services on Super and Mega Yachts including full repaint and conversion.
Dock N° 1
DESCRIPTION
Useful length: 176 m
Useful width: 21,86 m
Dry end timing: 6 hours
Dedicated area surrounding dock: 2,000 m2
AT DISPOSAL
Available power supply:
1 plug 400V 125A (3-phase + neutral + earth)
1 plug 400V 63A (3-phase + neutral + earth)
2 plugs 230V 16A (phase + neutre + earth)
3 electrical outlets adjustable from 50A to 250A (3-phase + neutral)
Fresh water supply
Fire defences

Dock N° 2
DESCRIPTION
Useful length: 107 m
Useful width: 13,84 m
Dry end timing: 3 hours
Dedicated area surrounding the dock: 2,000 m²
AT DISPOSAL
Available power supply:
3 plugs 400V 125A (3-phase + neutral + earth)
6 plugs 400V 63A (3-phase + neutral + earth)
6 plugs 230V 16A (3-phase + neutral + earth)
Fresh water supply
Fire hydrant alongside the dock